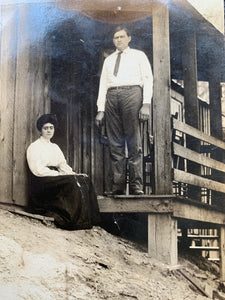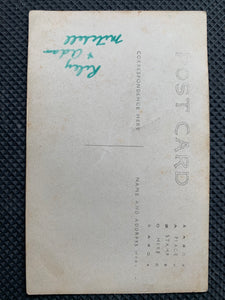 X- Adopted! - Virginia Fare - Spirit Attached to Her Photo -Psychic Medium
Regular price
Sale price
$74.74
---
Virginia Fare decided the best item to attach herself to would be a photo of herself, like many.
This is a photo of Virginia and her husband in her most recent life. She was a good woman who always put others before herself. That wasn't enough for her husband Avery. If things were not always perfect in their home, kept neat and tidy and everything where he could find it, he would become full of rage and start to throw things around the house. He never struck Virginia, meaning he never hit her or laid a hand on her, but she feared him tremendously.
They lived a block away from a beach, and the beach was Virginia's peace and serenity spot. She'd go there often to escape the negativity in her home. The photo is set up as a post card, and someone at some point wrote names on the back, as you can see in photo #2. Virginia does not know these people though, so somewhere along the line it was apparently used as a scratch paper for a mental note someone wanted to jot down.
Avery was good at keeping up appearances as if everything was fine and there were no troubles in their household. He could turn the charm on real quick when needed. Everyone thought he was such a kind-hearted man, and he could be at times, Virginia said, but most of the time he was bitter and mean, and he had to always have his way with everything.
When he wanted to have children and Virginia was not becoming pregnant, he blamed her. After two years of no pregnancy, he decided she wasn't worth keeping in his life, and he left. He told her he was going on a business trip, but he never returned. 
Since Avery was the bread winner, Virginia had no money aside from the little bit she had saved in a hidden spot from Avery. She remembered her neighbor was having trouble finding someone to watch her kids for her while she worked, so she walked over to her and asked her if she still needed a babysitter. She did, and Virginia started watching her children five days a week. That was her only means of income though, and it wasn't enough.
Lydia, the woman she babysat for, suggested she take on a couple more children to babysit so that she could make ends meet. She recommended her to a few mothers, and pretty soon she was watching 7 kids and making enough money to pay the bills and put food on her table. 
One day, one of the little boys fell down the steps leading up to her back door, and he broke his arm and two ribs. When one of the other little boys saw that he had fallen, he ran down the steps to him so he could try to help him, and he too fell down the stairs. He banged his head hard on the rail on the way down. He needed stitches, so he had to be rushed to the hospital as well. Virginia was in the bathroom when this all happened, but the police didn't believe her. They thought two kids falling down the stairs accidentally was highly unlikely.
Virginia was taken to jail for negligence and child abuse. Since she only had a few dollars and no one to bail her out, she was told she would have to sit in jail pending trial. She was found guilty on all counts at trial, and sentenced to 10 years. in prison. She spent only three weeks in prison before she was murdered by some women who knew she was in there for child abuse. 
We do not know when Virginia was born or when she died. She was asked twice, but she did not respond to either Meta or Mya. We think this must be a sensitive subject for her, as she answered almost every other question that was asked. 
What we do know about her is that she is a very good medium, as she had many visitors in that short time she was in prison, and they weren't human. She saw her cell mate's father who had passed away more than five years before that day. She heard her own grandmother talking to her, and they held a pretty long conversation on three different occasions. She also heard many other voices and saw many different spirits that she didn't know while she was in prison. After she passed, she realized lots of people could hear her talking as well, and some people could see her. Her mission and goal is to get people more in tune with spirit so that people and spirits may coexist as if the spirits were still here and alive on earth. She feels she has what it takes to help people channel and conjure spirits even if they have no experience with it. 
All you have to do is carry her photo with you when you hope to have some experiences with spirits. She said she will do the rest. She will help you conjure particular spirits that you know and any spirits you did not know but just want to get to know them (such as Goddesses, Gods, so-called "mythical" creatures, etc.  If there are spirits in your home, she will be the medium for them and tell you what they are saying. This means you will have to be able to hear her, of course, but she assures us that it will not take her long to get your third eye and ears tuned in to her vibration.
Virginia has not been here for very long at all. Just a few days. She urgently wants to be placed with someone, so we said we would list her next. 
We actually have several photos with Spirit attachment but it is not until recently that many people are requesting spirits that are not attached to dolls. Some people don't want to have to hide their spirits from family members or friends who don't understand their passion. Others simply do not like dolls. We thought it might be time to break some of these spirits out now that we know there is such a calling for them. 
Photographs is not where it stops. We actually have spirits attached to things like bottle openers and belt buckles! I know we need to make room and try to find homes for the spirited dolls because they take up more room than anything else here, but with such an influx of people asking for spirited items other than dolls, I thought I would bring some of them to the website.