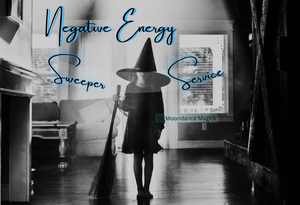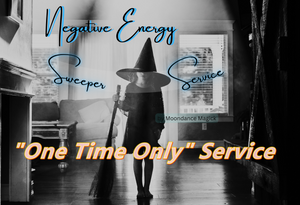 Negative Energy Remote Sweeper Service - Clear Out the Bad Mojo!
Regular price
Sale price
$17.17
---
Every now and then, it's a good idea to clear out the bad mojo around you. Even if you had a protection spell cast for you, you are sometimes subjected to people with a bad energy about them, which can stink up your house, your place of employment, the gym where you work out, your vehicle, or any other place you frequent where negativity just seems to keep turning up.
Everyone knows those few people who seem to always walk around with a black cloud hanging over their head, and by their own volition, regardless of what they might expect you to think. We all create our own present and future, but there are a few people everyone knows who always have someone else to blame for their "bad luck". If they were truly cursed, they are probably correct, but the majority of the gloomy people who blame society, their upbringing, relationships, employers, and just about everyone around them for the way they feel or for how bad their lives are have no one to blame but themselves.  Sometimes we love these people though, or they are people we cannot avoid for one reason or another. If people like this will always be in your space, you should consider having that space swept professionally of the residual negative energy they leave behind. They can leave a very low vibration in your home, causing you to feel low, no matter how hard you try to be your normal, perky self! This low vibration can also affect your family and pets. It has been known to cause relationship issues, as well. 
We recommend a quarterly sweep. Once every three months will usually suffice, unless you have a more serious issue with negative people polluting your space. In the case where you have multiple people who are around you several hours a day on a daily or even a weekly basis, you may wish to have a sweeping done more frequently.
You can also smudge your home yourself and practice some other DIY rituals, of course. We offer this service to you online now only because it was very popular for us locally when we had our retail store and more time to offer such a service to our neighbors, and the topic has come up again this week by someone we met online. We got a lot of feedback from our local friends indicating that our service worked so much better for them than when they attempted to smudge out negativity on their own. It's kind of like maintaining your vehicle if you are not a mechanic. You know a little, and for the most part, you can maintain your vehicle on your own...to a point. You change your own oil and other fluids, you wash and wax your car regularly, maybe you even flush out and replace your own antifreeze once a year. But when you need your tires rotated, a more thorough tune-up, etc., you're probably going to make an appointment with your auto mechanic. 
We offer this service to you in two ways:
 Once and done, or order as needed

 Annual quarterly maintenance plan
If you opt for the annual quarterly maintenance plan, which is discounted from the "Order as Needed" service, we will sweep your home or other area for you automatically once every quarter, and you will be notified via email when we have completed our quarterly sweep.
IT IS VERY IMPORTANT FOR YOU TO LET US KNOW IF YOU MOVE, SWITCH JOBS, JOIN A DIFFERENT GYM, or whatever the case may be for the area we sweep for you! Otherwise, your service will be done for you without any benefit to you, and there are no refunds for services rendered.
In addition, if you are on the annual maintenance plan and you feel you need more frequent sweepings, contact us. We will give you a coupon code to use for your "in between" sweepings so that you will receive the same per sweep service price. Once you have this coupon code, order the "Once and Done" sweep and apply the coupon. Write in the notes/comments section of your order anything we should know, such as how urgent your issue is and/or anything about the person or people who contaminated your space with their negative energy.
Please note that this is NOT a curse removal service, demon banishment, or entity banishment of any kind! Those services require a great deal of energy and time for the Moondance ladies to tackle, not to even mention how gruelingly painful they can be for them, depending on the circumstances. This service is strictly to clear out any negative air and residual left behind by people who were in your home or in another area where you spend a lot of your time so that you can function normally again.
You do not have to be physically present when we provide this service. On the other hand, it does not matter if you are there when we sweep. No appointment needs to be made, but we will always contact you each time the service is done. Anytime you order the single-service option, you will receive an automated email from our website stating that your "product is on the way". This actually means that we have completed your service. Nothing is on the way! Our system uses this verbiage anytime we mark an order as complete and every time we print a shipping label, because we also ship many products. We cannot, unfortunately, tailor the verbiage of this notification for services rendered (at this time).
After you order, please email us with the following:
Your name as it is currently
The address of the place you need swept. Be specific by including apartment number, suite number, etc.
Any information you care to share about the person or people who frequently bring bad vibes into your space
Tell us if anything unusual is happening or has happened, such as non-human entities plaguing your space.
In your email to us with this information, please also tell us if you purchased this service on our website, moondancemagik.com, or if you purchased it through one of our other platforms, such as Etsy or eBay. (Anything you can do to save us time, as we work LONG hours)!
Thank you!
CANCELLING AN ANNUAL PLAN: Things change. You may no longer be employed where you are having your sweep done quarterly before we fulfill all four services for you in any given 12-month period. We will not charge you for services we have not rendered, but if you need to cancel, your per-service rate will change.
To reiterate, you may terminate your annual plan early if you no longer need the services for the rest of the year that you paid for in advance, but please understand that there are no cash refunds. Instead, we will issue a store credit to your Moondance Magick account for you to use for your unused portion of this annual plan towards other products or services on our website (moondancemagik.com), with a "restocking fee" deducted, as your plan will then be chargeable at the "per use" fee. Example: If you ordered a yearly plan an you only utilize our services twice before you have the need to cancel, you are then responsible for paying the full service fee as indicated in the "Per Use" price at the time the services were rendered, so the discount you received for purchasing an annual plan no longer applies, and will be deducted from the credit amount issued to your account. If you have questions about this, please ask us before you order. Anyone who knows us well and knows about the dynamic around here also knows how it can be to deal with our accountant when it comes to refunds! In fact, the joke around here is that our accountant is the only person in the world that Meta and Mya fear when they have to tell her that she needs to issue a refund to a customer! 
If you have questions about this service, please email us before you purchase to avoid any confusion prior to us rendering your service.
By making a purchase of any kind from this website, you indicate that you have read, understood, and agree to our Terms of Service and that you are at least 18 years old.