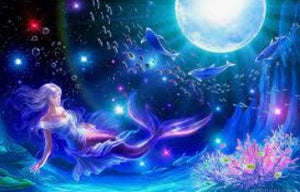 Tinny the Blue Moon Mermaid Remote Binding - Health Watcher, Art Maker
Regular price
Sale price
$61.61
---
Tinny is April's blue moon mermaid spirit which is currently attached to her Malachite bracelet. (April is our Operations Manager, for those who don't know). She has had her with her for about 9 months with no issues. In fact, Tinny was the one to tell her to get her blood work done, which showed she was low on several electrolytes. April was able to adjust her diet a bit and brought everything back up to normal. 
April has recently adopted her niece, and this is not sitting well with Tinny. She never mentioned it before, but she is not a fan of children under the age of 12. She doesn't mind child spirits. She just doesn't want to share her time and space with a human child. April offered to give Tinny a bedroom to herself, and that's when she also confessed that she wasn't a fan of the malachite bracelet. She doesn't even like the color green. In fact, I think the word HATE was used. So Tinny will need to be remotely bound to an object you own that is BLUE, which is her favorite color.
It breaks April's heart to have to give her up, but she does not want Tinny to be unhappy. She is listed for adoption at her own request, not because April wants her to go. This is the reason I am writing up this listing (Mya). It wouldn't have been easy for April. She adores all her spirits and never in her life thought she'd ever have to give any of them up. 
Tinny is like having your own personal health monitor. She will alert you in whatever way she needs to if you need to be seen by a doctor for reasons that do not come to the surface, such as the issue April had with her low potassium, sodium, and other "ums". 
For April, she verbally told her to get her blood work done that she had put off for almost a year after getting a written order from her doctor, but April is able to hear most of her spirits when they speak to her. Tinny said if April would not have been able to hear her, she would have warned her in a dream. April doesn't always remember her dreams, but Tinny said she would definitely remember if Tinny came to her in a dream, because everyone always does. Apparently, she is pretty boisterous when she dream visits.
She tells us that her previous keeper didn't recognize the warning signs he was having for stroke. She told him in a dream that he needed to have a cat scan immediately. He didn't know how he would explain this to a doctor, so he just went in and said he had a migraine that wouldn't stop and he feels as if something is very wrong. Sure enough, they found that he had already had a mini-stroke, and there was danger on the horizon for more to come.  The doctors were able to prevent that from happening once they saw his scan.
Tinny is a mermaid who resonates very much so with full moons, and even more so with blue moons. During a blue moon, take her outside and allow her to bask in the moon's warmth to absorb it and become stronger. This is how she needs to be charged once in a while, or once in a blue moon! Between the blue moons, anytime you can get her outside for the full moon is also therapeutic for her. Taking her out for ten minutes will suffice, but she would not object to being left out the entire night when there is a full moon. 
When Tinny is most powerful is right after having been under the blue moon, but she's very powerful after having a regular full-moon charging, as well. When she is most powerful is when you will delight in her artwork! You may see flashes of color light zooming through your home, experience unusual and unseasonable weather just in your town or possibly the county, and you'll hear pleasant music. 
Tinny was born under a blue moon, which is one reason she resonates with it so well. In addition, her mother and both her sisters were born under a blue moon. It seems to go back many generations, which is why they eventually referred to themselves as blue moon mermaids.
She speaks fluent English, French and Spanish, but she can easily learn any language in a matter of hours. 
Her favorite color is blue (darker shades are her preference, but she also likes very light shades of blue. Medium blues are not her favorite shades, but anything blue in front of her will make her smile). For food offerings, she likes grape juice, blueberries, watermelon, bananas, cinnamon sprinkled on just about anything, beets, rhubarb, and macaroni 'n cheese. Her favorite music is anything played with a piano and/or an organ or a harp. Her favorite movies are It's a Wonderful Life, Jurassic Park (all of them), and The Fifth Element. She loves dinosaurs, fairies, mer-people, of course, and genies. She would love to live with someone who has either another mer-person spirit, a dinosaur spirit, fairy spirits, or genie spirits. If you don't have any of these spirits residing with you currently, we have all but a dinosaur spirit. I (Mya) will work on that if that's what you desire. I can usually conjure just about any species or entity, especially animals and mystical creatures. (MYSTICAL, not mythical). 
The photo below is the closest I could find to Tinny's appearance as I see her before me. She has silver-blue hair, blue eyes, and always shows herself to me with an iridescent blueish purple tail. 
Tinny has been in spirit for 100+ years, give or take, but she does not know dates. She can only guess in human years approximately how long she lived on earth and approximately how long she has been in the aether. She said she was approximately equivalent to 17 human years in age when she passed away. She did tell us how she passed, but I prefer not to post it here. If you adopt her and you'd really like to know what happened to her, it will be shared upon adoption. 
Like all spirits, Tinny will have to approve of any adoption. Once approved, you will be able to check out and we will schedule a time for her to be remotely bound to you or to an object that is BLUE that you own. Please send a photo of that object along with any other information we might need from you if you are not one of our regular customers. You can find the list of the things we need to get your approved in our Terms of Service.