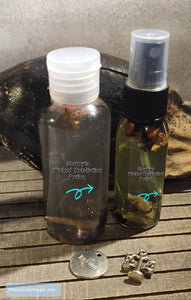 Stormy's Wicked Retaliation Potion - Serve Someone Karma Quickly!
Regular price
Sale price
$42.42
---
This potion is powerful! Simply set your intention on it when you receive it, and spray it on someone's clothing, into their car, or into their chair where they sit...and wait! 
Example: If you work with someone who is slandering you, treating you poorly, and maybe even harming you in some way, when the potion arrives, set your intention into it that whomever you spray the potion on will receive karma quickly for how they have treated you. You can even get as specific as to say that the karma should be that they lose their job, that they are shunned by other co-workers, or that their car won't start when they leave work that day! Once you have instilled your intention into the potion (instructions will be sent to you on the exact way to handle this), be careful not to spray it on anyone you would not wish to have bad things happen to!
You should know that the Wicked Retaliation Potion will not harm anyone physically unless they have first done bodily harm to you. It will also not kill anyone, but you should not poor this potion into something they will ingest. It is highly toxic if ingested orally.
Also available is the Justice Spell, which serves proper justice to someone in a particular situation. There are pros with both the Justice Spell as well as the WRP, and slight cons with both.

With the Justice Spell, you don't have to worry about spraying a potion on anyone. Stormy takes care of casting the spell and she works with the god(s) and/or goddess(es) who work best on spells for your personal dilemma. She works with many gods and goddesses, and she will know which one(s) to work with after learning your story. The downside to the Justice Spell is that after the gods & goddesses assess your situation, THEY will decide what type of karma comes their way, if any. So if you were to contact us with a fabricated story about someone just because you never liked them but they did not do anything in particular to harm you, or if what you think you know about them is inaccurate, nothing will happen to them, as the gods and goddesses will see that this is a misunderstanding.
With the WR Potion, YOU are in control, for the most part. You set the intention of what you wish to see happen for the recipient's karma. The gods and goddesses will go with whatever it is you decide should happen, assuming, again, that this person has done something to you first, deserving of some sort of karma. (And also again, they will not kill someone for you)! And they will only cause them bodily harm to the degree it was given to you first. So if the person you are using the potion on broke your arm intentionally, they will deal with a broken arm, as well. The potion will not give them two broken legs if the person who harmed you only broke your arm, in other words. If the person did something to you that you cannot do back to them, you are free to choose what happens to them. Maybe they stole your boyfriend or girlfriend, then later broke up with that person they took from you. You can't retaliate by having them lose their boyfriend or girlfriend if they do not have one, but you can choose for them to suffer in another non-physical way (since there was no physical harm done to you, they would not receive physical harm).
So if you want a co-worker to get fired because they are framing you for things they are doing, for example, that is exactly what will happen when you spray them with the potion (or at least get it on their clothing, in their hair, or on a pen they will use to write with, a keyboard, etc. Use your imagination! It just has to touch them or their clothing). 
Please contact us before purchasing, as we would like to be able to give you our fair assessment of whether this might work for you. We don't want you to buy the potion or order the spell if we feel you would not benefit from either of these options. 
Example time again: You cannot stand Megan, the prettiest girl in your college. She gets all the attention, the great guys to date, etc. She is the professors' pet. She gets chosen for everything and seems to always shine no matter how much $h*t she rolls in first! So you want her hair to start falling out and warts to start growing all over her face. Maybe you want her to also gain about 100 pounds. This is what the gods and goddesses would see as petty. You can dislike her all you want, but if she has not intentionally harmed you in any way, the gods and goddesses will roll their eyes and walk away from it, whether you order the spell or the potion. 
You must NOT continuously use this potion on the same person over and over again once they receive their karma, or Ms. Karma will boomerang it right back to you. 
The supply you will receive is quite ample, so if you mis-spray a few times, you will still have plenty to use.
Please note that you may receive your potion in a glass bottle with a dropper or some other packaging entirely instead of the the bottles you see in the photos. Since 2020, we have not always been able to purchase the same supplies. We sometimes have this already bottled up in a specific type of bottle or jar that we were able to obtain the last time Stormy made a batch of this potion, so the bottle or packaging you receive for your potion will depend on our stock at the moment of your purchase.
When you purchase, you must check the box that states you have read our terms of service, that you understand them, and that you agree with them before checkout completion is enabled for you. This means that you are agreeing not to physically harm anyone, ingest this potion, or cause someone else to ingest it. We cannot be held responsible for how you use this potion or any of our products and services if you do not abide by these warnings in our TOS.