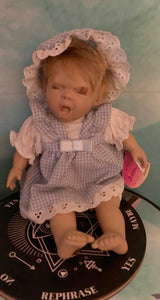 X- Adopted! - Sally - Autistic Child Spirit Healer Remote Binding or Doll Vessel
Regular price
Sale price
$86.86
---
Sally is an autistic child spirit attached to this adorable doll. A local woman's mother passed away, and she had several spirited items when she passed. We bartered with her daughter to get the whole lot of them. Sally is one of 19 spirits who came to us from her.
The first thing she said to Meta when Meta took her in was "Karen". (Or Karin?) We have already spoken with a client we have whom we believe is the person Sally is asking for, but we are still trying to confirm that. She is not available until we confirm this. Meta will be talking with her some more today to see if we can pinpoint why she said this name and if it means she is reaching out to be adopted by someone with that name. 
Meta sensed right away that Sally had autism. Sally is brilliant, and she speaks three languages: English, Spanish, and German. 
The woman we got Sally and the other spirits from did not know any of their names. Meta asked her what her name was and what she would like to say. Sally said, "Karen". So Meta thought her name was Karen and she said, "Hi Karen; nice to meet you". But Sally replied with, "my name is Sally". This confused Meta but she said OK Sally nice to meet you. What can you tell me about yourself. And Sally said I'm autistic and I like to play with models and statues and also puzzles. And I like a warm washcloth on the back of my head sometimes. Other times I like ice wrapped in a washcloth and put on the back of my head and the backs of my knees.
Meta immediately went for a washcloth and asked her if she wanted heat or cold. Sally said, "nothing at the moment, thank you". She is so pleasant! She likes it at Meta's house, but she said she'd rather be with less than 100 spirits, not with 600 of them like Meta has at her house between the ones that don't fit anywhere at the office and the ones she keeps permanently. She would also like to be with someone who understands her better. Possibly someone else who is familiar with autism.
Meta asked her for more info, and she said she likes to read people and animals. She wants people to hold her gaze for about ten minutes so she can listen to what they are saying to her with their mind. She said she always attempts to send messages back, but most people can't hear her. She said she just hopes her new keeper can at least feel her warmth and her energy, but she believes her new keeper will soon hear her and see the images she sends to your mind.  
I (Tracy) was actually able to hear her talking, but when I asked her questions myself, I could not hear her. I could only hear her speaking when Meta spoke to her and asked her questions.  I don't know if she wasn't responding to me or if I just got too nervous when it came to asking for a response. But for me to hear a spirit the first time I meet them is good. She is a good communicator. I can't even communicate with all the spirits I have in my home yet.
Sally was born in Croatia to a wealthy couple who had two other daughters prior to Sally's arrival into the world in her most recent life. When Sally's parents were told she was autistic, they immediately hired a special needs Nanny to help them with her. The sad part is that Slavina, the Nanny, became more of a mother to her than her biological mother. Her biological mother spent more time with her sisters at their dance lessons and their recitals than she did with anything or anyone else. It was like no one and nothing else existed. She barely even paid attention to her husband, who didn't seem to care because according to Sally, he had a "hot, young babe on the side". 
Her birthday was October 21, 2000, and she passed away on January 11, 2011, at only ten years of age. She developed a rare blood disorder, but no one was aware of it. It caused her much pain, but Sally was so stoic, and she didn't want to upset anyone, so she kept it to herself. She never even complained to Slavina. 
She likes to leave her vessel and visit Slavina from time to time, who still lives in Croatia and is now tending to another child with autism. She knows that Slavina knows she is there when she visits, but it sometimes freaks her out, as this is not something she is "supposed to believe in", according to her church. She said she leaves her vessel a couple times a year to visit Slavina, who is the only person she recognizes to this day as "family", aside from her previous keeper. 
Sally wants to help heal those in need of emotional or spiritual healing. She can especially help anyone with autism, as she has mastered some things that she will work on behind the scenes with you or a loved one who has autism. She also helps heal physical wounds rapidly. One of my co-workers accidentally laid his ankle up against the muffler on his motorcycle the other day. His skin looked like melted cheese the morning it happened, and now it is practically healed. You can barely see anything happened to him! 
Sally's favorite colors are light to medium shades of blue and purple. Her favorite foods are eggs, peanut butter, strawberries, peaches, yogurt, chocolate ice cream, and chicken tenders with honey mustard dip. She likes to watch movies in Spanish, and she enjoys all wildlife films and documentaries. She also likes fast cars and watching car races. 
She does not like her ears touched and she does not like high-pitched squeals! She had some trouble with her ears in her most recent life. Certain high-pitched sounds such as a young girl screaming at the top of her lungs hurt her ears, so please be prepared to play some music loudly or something to buffer any sounds like that if you hear anything outside that could bother Sally. She also does not like when things are upside down. If you are used to putting your shampoo bottle upside down in the caddy when it gets down to the bottom of the supply, she will most likely turn it right-side-up, or she will pitch a fit if she can't move it. You are likely to hear wind when she gets upset. It sounds as if a storm is brewing, but it doesn't last long.  Other things that can't be upside-down could be paintings on your wall, a book in a bookcase, or YOU! No hand stands! The best thing to do if you hear it getting windy inside your home is to look around to see what might be hanging upside down and fix it! We haven't seen things blow around from the wind; we just all hear it when it happens.