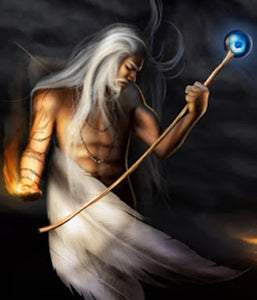 Portal to the Scottish/Irish God Ogma for Protection, Writing Skills, & Confidence
Regular price
Sale price
$50.50
---
Ogma: The Scottish/Irish version of Atlas and Hercules!
Ogma, (modern spelling: Oghma) is an Irish and Scottish god. He was the Irish god of literature and eloquence. In addition, just like the Greek god Hermes, he directed souls to the otherworld.
A member of the Tuatha Dé Danann, he is a deity related to the Gallic god Ogmios. According to the Ogam Tract, he is the inventor of Ogham, the script in which Irish Gaelic was first written. The Tuatha Dé Danann was a supernatural race in Ancient Ireland.
What Ogma can do for you:
You can communicate with Ogma through his portal to ask him for strength, courage, and confidence when you are about to face something you fear or that you are weary of. He will give you the strength you need, but he will also be by your side throughout the ordeal so that you are well-protected against malice. 

He is very much skilled in speech and poetry, so he can help you write that essay, report, or poem for your girl or your guy!

He makes problems go away. Use your imagination on this one.

Ogma helps people gain confidence in themselves as well as self-love. Having a strong sense of self-love and newfound confidence can open many doors for us.

Not the most glamorous of benefits to think about, but he will help you transition to the Otherworld upon your death so that you have a safe and blissful passage without unwanted events occurring along the way. Your death will be painless. In fact, he says it will even be euphoric. You will not need to open his portal to get his help with this when the time comes, as he will know when you are about to cross over, and he will come to your aid at that very moment without a summons. 
We can attach his portal to an object of your choosing or to your person. We will need a photo of the object which will become the communication portal with Ogma, or a current photo of you if you wish the portal to be attached to your person. If we already have a fairly recent photo of you on file from previous business, you do not need to send another one. We will need to coordinate a date and time with you if you will be the portal. If it will be an object, please send us a photo of that object so that Meta or Mya can fulfill your order, and leave it out in the open to make it easier for them to get their job done. Please also email us for instructions on communicating with Ogma through your portal. If you have purchased other portals from us in the past, you should already have these instructions. They are one and the same for most of our portals. Any portals that have separate, special instructions are noted in the descriptions of their listings. 
Ogma has not currently given us any limits for portals to be offered. If this changes, you will see that this item is showing as "sold out", and you will not be able to add it to your cart.
His story:
He fights in the first battle of Magh Tuiredh when the Tuatha Dé Danann take Ireland from the Fir Bolg. Under the reign of Bres, when the Tuatha Dé Danann are reduced to servitude, Ogma is forced to carry firewood, but nonetheless is the only one of the Tuatha Dé who proves his athletic and martial prowess in contests before the king. When Bres is overthrown and Nuadu restored, Ogma is his champion.
His position is threatened by the arrival of Lugh at the court, so Ogma challenges him by lifting a great flagstone, which normally required eighty oxen to move it, and hurling it out of Tara, but Lugh answers the challenge by hurling it back. When Nuadu hands command of the Battle of Mag Tuired to Lugh, Ogma becomes Lugh's champion and promises to repel the Fomorian king, Indech, and his bodyguard, and to defeat a third of the enemy. During the battle he finds Orna, the sword of the Fomorian king Tethra, which recounts the deeds done with it when unsheathed. During the battle Ogma and Indech fall in single combat, although there is some confusion in the texts as in Cath Maige Tuired Ogma, Lugh and the Dagda pursue the Fomorians after the battle to recover the harp of Uaitne, the Dagda's harper.  This substantiates the reason that the Dagda gives Síd Aircheltrai to Ogma in De Gabáil in tSída (Taking of the Sidhe Mound) and is also referred to be in residence in Brecc on page 303 in the Táin Bó Cúailnge.
The Tuatha Dé Danann (Irish: [ˈt̪ˠuə(hə) dʲeː ˈd̪ˠan̪ˠən̪ˠ], meaning "the folk of the goddess Danu"), also known by the earlier name Tuath Dé ("tribe of the gods"), are a supernatural race in Ancient Ireland. Many of them are thought to represent deities of pre-Christian Gaelic Ireland.

The Tuath Dé are kings, queens, druids, bards, warriors, heroes, healers and craftsmen who have supernatural powers. They dwell in the Otherworld, but interact with humans and the human world. They are associated with the sídhe: prominent ancient burial mounds such as Brú na Bóinne, which are entrances to Otherworld realms. Their traditional rivals are the Fomorians (Fomoire), who represent the destructive powers of nature, and whom the Tuath Dé defeated in the Battle of Mag Tuired.
Prominent members of the Tuath Dé include The Dagda ("the great god"); The Morrígan ("the great queen" or "phantom queen"); Lugh; Nuada; Aengus; Brigid; Manannán; Dian Cecht the healer; and Goibniu the smith, one of the Trí Dé Dána ("three gods of craft"). (Please see our listing for a portal to The Morrígan on our website!)
Several of the Tuath Dé are cognate with ancient Celtic deities: Lugh with Lugus, Brigit with Brigantia, Nuada with Nodons, and our own Ogma from this listing, with Ogmios.