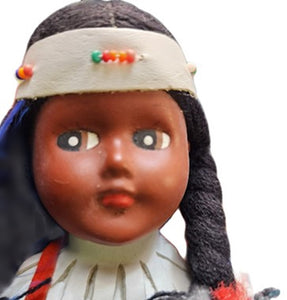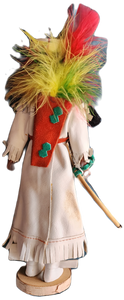 Oneida - Native American Medicine Woman Spirited Doll or Remote Bridging
Regular price
Sale price
$109.09
---
Oneida is a magnificent spirit to have in your family! She chose this vintage Native American Doll vessel to depict who she was in her most recent past life, but she does not mind being bridged to her keeper's person or to an object that he or she has, as long as that object is made of wood, crystal, metal, porcelain or glass. Those were her only requests.
She was born into the Oneida clan, which is one of the five founding nations of the Iroquois Confederacy. Her father was a medicine man, and Oneida followed in his footsteps. She had two older brothers and two younger sisters.
Of all the children in her family, Oneida was the only one who was born with the knack for healing with herbal medicine. From a very young age, she could pick up an herb, a weed, or berries off a bush and instinctively know how those items would heal. She was concocting herbal remedies from the time she was 7 years old.
By the time she was 13, she graduated to caring for expectant mothers and delivering their babies. Her father was very proud of her. She was always his favorite, because he loved how she had such an interest and talent in the field of natural medicine.
Her favorite past time, aside from actually healing people and animals, was foraging for new medicines. She loved exploring new grounds, and would often take long hikes into the woods that would have her gone for days at a time in search of something new and different that she could pick for her medicine bag. She always packed well for her journeys, including taking her bow and arrow for protection and food to cook while she was out. Her father went with her on most excursions, but when he had other obligations, she would head out into the wilderness on her own.
Her birthday is May 1, 1798. She was born in upstate New York. She fell in love with a boy named Sken, which was short for Skenandoah, in 1815 and married him less than 6 months later. Sken was also an explorer, but his love was for finding new and interesting species of animals. 
Sken and Oneida were married for a little more than a year when they decided to go on a very long excursion. Sken just knew there had to be some different animal species if they traveled west, and Oneida was sure she would find some different species of nature's medicine, so they planned for a long trip, and they would not return until they each found things that would make them happy.
Oneida said she does not know where they ended up on our current map of the United States, but she does know that in these lands there were bears that were not as friendly as the ones she knew in New York. She also said they were brown instead of black, and very large. She knows, because she died at the paw of one of these large beasts. She and Sken were about to roast some meat after they had hunted for their dinner when a big bear came into their camp. He may have only wanted the meat they were about to cook, she said, but they were hungry too, and they were not about to give up the only little bit of meat they had hunted. They both grabbed everything they could, including their food, and took off running. She said that was a bad idea. The last thing she remembers is the bear swatting Sken like he was a fly and Sken taking off flying into a tree, where he was knocked unconscious. Then it was lights out for her. She said she thinks her body chose to defend her conscious feelings of what was happening, because she remembers seeing the bears teeth, his tongue and his wide-opened mouth. She remembers his loud roar and the stench of his breath, but that's all she recalls of her human life. A moment later, she was hovering over the camp area. She did not see her own body, but she saw the bear, and she saw Sken still lying at the base of the tree that he was thrown into.
Exploring in those days was not like it is today. There was little known on the east coast in regard to wildlife in the Midwest and on the Pacific coast. Oneida had a black bear who came around at home that was almost tame. They didn't bother anyone as long as they didn't come near their young. These brown bears out west were a bit different, and Oneida found out the hard way.
Oneida has continued helping people in spirit since she passed away in 1817. The way she will help her keeper will be to help them intuitively know what kind of herbs and other natural remedies to use for healing and curing diseases. She said if you are of childbearing age, when the time comes, you will have the most pleasant pregnancy and birthing experience with her by your side. You don't have to have her physical vessel with you for Oneida to be with you. As with all spirits that come from our foster care, the spirits are only bridged to their vessels, not BOUND. If they came to us already attached to a vessel, they have not been bound to that vessel. They chose their own vessels prior to coming into our foster home. All you need to do in order to get Oneida to come with you into another room of your house, to work or play outside your home, or to the hospital when you want her by your side when you give birth is to ask her to come along. She will always be listening, as her focus will be on her keeper 100% of the time.
Oneida also helps people to have lucid dreams and educational dreams. You may very well get ideas for a new potion, elixir, or herbal remedy while you sleep. When you do, this is Oneida giving you these ideas. If you are not clairaudient, Oneida will talk to you in your dreams and plant visions and words in your mind. You may hear her advice in your own voice or in hers. If you hear her voice, you're in for a real treat! She has the most pleasant, melodic voice you will ever have heard.
Her vessel is in great shape for its age. As you can see from the photos, there are some small stains on the back of her dress that appear to come from the glue used back in the day. She is not opposed to having a new dress or a new vessel altogether. We can bridge her to another doll or other object, as long as it falls into the material requirements of Oneida.
As with all spirit adoptions, it is necessary for you to read our Terms of Service before adopting Oneida. (Especially the first section regarding spirit adoption)!
For offerings, Oneida likes the following items: Seashells, ferns (dried, fresh or live), anything bright red or turquoise blue, Carnelian stones, turquoise, amethyst, and citrine crystals, black or red feathers, and beads. Her food and beverage favorites are broiled or fried fish, (especially salmon), corn bread, potatoes, corn, peas, and pine nuts/pistachios. She loves lemonade and black coffee with no cream or sugar to drink. To give her a special treat, take her with you on a hike or camping, and make sure you do some exploring!