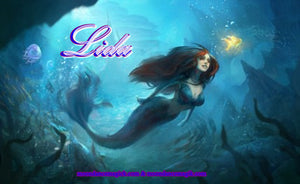 Lida - Siren Mermaid Spirit from the Baltic Sea - Dark Magick -Remote Bridging or Her Pocket Watch Vessel
Regular price
Sale price
$75.75
---
DO NOT PURCHASE WITHOUT READING THE ENTIRE LISTING! WE MUST KNOW THAT YOU ARE ABLE TO HANDLE THIS SPIRIT, THAT SHE IS WILLING TO BE ADOPTED BY YOU, AND WHETHER YOU WANT A REMOTE BRIDGING OR FOR US TO SHIP HER CURRENT VESSEL TO YOU! READ ON FOR MORE INFORMATION.
Lida, pronounced Lee Duh, is a Siren spirit up for adoption. If you're not aware of the capabilities of a Siren, please do your research before inquiring about Lida. She is not for everyone! Must know how to handle her, especially if you are a man or there are men living in your household.
Lida has an axe to grind. She was excellent at her "job" until she let her guard down and fell in love with a human man. It was love at first sight. She could hardly believe it herself, and explaining it to the man, whose name was Robert, was even more baffling to him.  But he fell for her as well, and for reasons unknown to either of them at the time, he did not perish from her song. 
She sang her song as there was an approaching ship like any normal night. Every man on the ship fell in love with her instantly upon hearing her angelic voice. While there are some benevolent sirens who won't harm humans, Lida was not one of them. She fully intended on killing all the sailors with her song. There were 19 men on the ship. Eighteen of them died. Robert did not. When Lida approached the ship to see the damage she caused, she was amazed to see one man still standing. Robert heard a splash behind him and turned to see what was causing the noise. That's when he saw Lida. He looked into her eyes and she looked into his, and they both instantly knew that they had each found their soul mate.
Lida never sang again. She did not want to risk harming her eternal love, Robert. Her killing days were over. 
The next part of her story was told very abruptly to us and without detail. The short of it is all we got, and it goes something like this: A young man who's father was killed on the last ship Lida sang to found out that it was Lida who killed him. Lida says she now knows that he hired a psychic to tell him what happened to all the dead sailors, including his father, and to the one who was missing from the boat since there were supposed to be 19 men. He tracked her down and when he found her, he found that Robert was with her. He knew that she spared him, but he didn't know why until he saw them together. Lida and Robert had no idea who this young man, named Jamison was. They just knew he had hatred in his eyes when he stepped up to them. He had no intention of harming Robert, but now that he was standing before both of them, he knew he had to kill them both or be killed himself. He killed Robert first. Stabbed him right in the heart. Lida was devastated and rushed to Robert's side to try to revive him, but when she did so, Jamison stabbed her in the back several times. He had killed both of them.
Jamison has since perished himself, of course, as this took place in the late 1700s. He has reincarnated twice since then. According to Lida, he is walking around today in human form somewhere on this earth, and it has been her mission to find him ever since she took the life of the man she loved and killed her. She said had he killed her first, she wouldn't be nearly as devastated, but she had to watch Robert die in her arms, and that's something she will never be able to erase from her memories. 
Needless to say, Lida is looking for Jamison. She said she feels she got close more than once. She smelled his spirit's DNA and knows she was near him on more than one occasion. The problem is that on one of those instances she was in Beijing. On the other occasion, she was on the island of Maui. Jamison's soul either travels a lot, or it split for this lifetime, and he has a soul mate. If this is the case, she will have to retaliate against both humans carrying Jamison's soul. 
The one thing that Lida assures us of is that she will not stop until justice is served. She can't be reasoned with. She does not understand that justice was already served when Jamison killed her and Robert, because Lida took Jamison's father and 17 other men. 
Lida wants a "home base". The person who adopts her will be someone who works with black magick. She will help them get the things done that they want to accomplish in exchange for their help. If you are her new keeper, all you will have to do is recite a short chant with her at least once a month to help her find Jamison. The chant goes like this:
Appear before me, killer of my love.
Don't hide anymore.
I will eventually find you, you son-of-a-bitch
at which time I will roar
You'll feel my hatred, as well as my wrath
Stand before me now, come into my path.
Surrender your ugly soul to me, and I shall make it fast.
We thought we understood the exact meaning of her words in this chant, but we asked her to confirm. We were correct. She said she is trying to get Jamison to surrender to her willingly, and if he does, she will not make him suffer when she retaliates. It will be quick. If she has to hunt him down, it will be grueling for him. 

Set up your altar by lighting RED candles and dimming any other lights in the room when it's chant time (which is anytime YOU decide it's a good time). You may also set up an outdoor altar, if you prefer. All Lida needs is candlelight shining from RED candles. Tell Lida you are ready to help her find Jamison again, and that you are about to start the chant. Chant the words, and she will be reciting them with you. Hold your arms out to your side with your palms up as you chant this. She said she will detach herself from her vessel and she will be holding your hands, facing you, and chanting right along with you. When you have finished reciting the chant, blow out your candles. You may walk away at this time, with or without Lida's vessel. She will attach herself to the vessel after a few hours. She did not tell us what she will be doing during these few hours, but we suspect she will be trying to feel Jamison's energy to learn at least one of the two locations where he can be found.
If you are clairaudient, Lida will tell you when she has found both instances of Jamison, if there are indeed two instances of him. She will know immediately if this is the case once she finds the first instance of his soul. She will know if his entire soul is attached to one human vessel or if it has split into two. She said she will channel Meta or Mya to let them know if and when she has taken care of Jamison entirely. We also asked her to contact us if she finds that his soul has split into two and she only retaliates against one of those instances of Jamison, with the other still at large. If this happens, she will also channel Meta or Mya if/when she finds his other half and takes care of that instance of him, as well. 
Of course, she's been looking for Jamison for a couple hundred years already, with no luck. The fact that she has recently come close though gives her hope that she will soon find him. 
There is one more caveat to this. She knows where Robert is, and she will leave her vessel once a week to lie with him in bed as he sleeps. He is a man living in Mexico. Spirit can be in another place in the multiverse almost instantly, so she won't be gone for days or weeks as she travels like she would be if she were human. When she leaves her vessel to be with Robert, she will only be gone a few hours. She will do this while you sleep.
Lida will not harm you or anyone in your family IF you lay these ground rules down for her upon her arrival. She must simply be told she is not to hurt anyone you love. She does still enjoy doing what sirens do, and she said her soul will never lose that craving, especially now that she has so much hatred in her soul's heart after losing the only thing she ever loved. But she said her desire to sing to men is something she can live without for months at a time. She told us that she has only harmed men to the point they could not be helped about once every ten years since she perished, and those who did not make it were doomed from the start because they were so weak when it came to resisting their lust for her. She feels they deserved it, and she also feels this is part of the whole "natural selection" theory, much like a lion in Africa winning a battle with an antelope.
What Lida will do for you is help you manifest your dark desires anytime you wish to engage in such practices, whether that is once a day or once a year. She said she will be especially willing to help you if your retaliation is against a man, even if you are a man yourself. She will not love you if you are a man, but she will not harm you. From the moment you adopt her, you will become her family. It is only you she will be loyal and faithful to, but she will not harm anyone you care about or the people that they care about if you set this straight with her from the start.
For offerings, Lida likes anything slimy such as worms, fish, Jell-O, or even sticky spaghetti noodles. The slimier the better. Actual slime like children play with will get you bonus points! Her favorite color is red, followed by black. Her favorite thing to do, aside from harming men, is to people watch. Have her bridged to an item you can hold or wear when you are in public crowds, and this will invigorate her. She said watching people super-charges her and she's ready for just about anything after ten or twenty minutes of soaking in the essence of their souls.
Yes, Lida is very dark, and she is not for everyone. You must be willing to handle having an entity around you that is as dark as she is.
Lida came to us attached to a broken pocket watch, but she is happy to be bridged to anything that makes you happy. If you do prefer the pocket watch, please let us know so we can fix this listing to make it a shippable item. Otherwise, our system will not prompt us to print a shipping label, as it is currently set up as a non-shippable "item". Shipping charges will apply if you choose to take her as she is attached to the pocket watch vessel, although they will be minimal. The packed pocket watch will fit into our smallest box and will weigh less than one pound, so the shipping charges will be equivalent to the charges you'd have to pay for a roll-on potion bottle. (We can't tell you the exact charges without knowing your postal code, but you can add any roll-on potion to your cart to see what your shipping charges would come to). 
Let us know if you would like to see any photos of the broken pocket watch she is attached to. It doesn't appear to be an expensive one, and we don't know how long she was attached to it.
We purchased the pocket watch at an antique store in Gettysburg. Matt, our delivery driver and spirit retriever, (if that's a term), picked the pocket watch up when he was there to pick up some other items they called us about. We're not sure how they didn't notice that the pocket watch was also haunted, especially with such a strong energy, but Matt knew right away that it was haunted when he picked it up and held it as he was waiting for the manager to come up to the front desk with the box of haunted dolls that he had for us. He told the manager that the pocket watch was also spirited, and that he wanted to buy it along with the spirited dolls. He had no idea it had siren spirit attachment at the time, and he thanks her daily for not harming him. when she had the chance.
If you wish for Lida to be bridged to you or to an item you own, please indicate this in your email to inquire about her. If she will be bridged to an item, please include a picture of this item in your inquiry when you contact us.