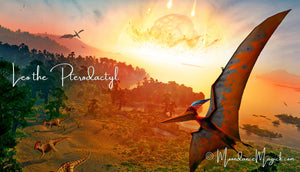 X- Adopted! - Leo the Pterodactyl - Revenge and Justice Spirit - Remote Binding
Regular price
Sale price
$43.43
---
Leo
If you've always wanted a pet dinosaur, Leo's your man! That is, if you like to delve in the dark arts. He's not for everyone.
The colors and markings of Leo are phenomenal! Mya finally found some software that would allow her to create and manipulate drawings to tailor them to her visions. The picture you are looking at is a close depiction of Leo's appearance. He is stunning with indigo blue, purple, gray, orange, yellow and red feathers.
Leo has an appetite for righting some wrongs by bringing justice to those who deserve it, and pushing Karma their way sooner than later.
His biggest issues are with people who are abusive towards others, narcissistic, demanding, judging, and/or bullies, but he also won't tolerate greedy people, cheaters, liars and hustlers/scammers.
If his keeper doesn't have someone to even a score with, he will stray from time to time in search of someone to dish out some Karma to, and not necessarily in their own neighborhood. He can fly from Egypt to Japan, to Canada and Mexico all in under an hour, if he wants to. But he will generally choose a different area of the world each time he ventures out, find someone who is mistreating a person or people, and give them what-for.
The way he deals with such behavior is not pleasant, he says, so he will not subject us to the details. He doesn't kill without command. When he seeks out people who need a dish of Karma, he will give them a taste of their own medicine but 10x harder than what they have done to others, and he will cripple them in such a way that they can't possibly do it again. 

If his victim is someone who talks down to people all the time, mocks them verbally, or is verbally abusive in any way, they won't be able to speak again for a year. The best part is, they won't even know that they will only be without their working vocal cords for only a year. They will believe it is permanent! This is just one example of Leo's clever way of seeking revenge and justice.
He told us he deals with men who mistreat women and children, rapists, and anyone who uses their size and strength against physically weaker people in a way that would give us all nightmares.
The Pterodactyl lived during the Cretaceous period between 201 - 66 million years ago. Leo does not know his hatch date or his date of death because they (the dinosaurs) did not fixate on dates, but he does know he was one of the dinosaurs that perished when all living dinosaurs were wiped out by the asteroid that struck eastern Mexico 66 million years ago.
This sub-species of dinosaur could grow to be of enormous size, like Leo. Many remained on the small size. They can be very aggressive, but Leo is not unmanageable. He is loyal to his keeper, and he will listen to any ground rules you set. However, he would be best companioned with someone who delves in the Dark Arts and has some experience with dark entities.
As always, when you adopt a new type of spirit energy into your life, you may need a short period of adjustment. Once you have acclimated to Leo's energy you will notice a strong connection to Leo, and you will also notice a stronger energy connection to the spirit world, in general. Leo will also bring you closer to nature. His previous keeper was able to communicate with deer, antelopes, buffalo and bison before he passed away.

Normal protocol should be followed for applying to adopt Leo, as outlined in our Terms of Service.
Important information about having any spirit bound to you remotely

:
No product will be shipped to you, so there are no shipping charges. This is a remote binding which Meta or Mya will conduct to help your spirit transition from our space to your item or to you, whichever you prefer.
The object you choose for your spirit's vessel, if not your person, can be anything you find to be pleasing to the eye. Something that sparks you when you see it. It can be a gem or a crystal, a skull, a baseball bat or anything you'd consider to be a weapon, a piece of jewelry, a small statue, an antique of some sort, or anything you find aesthetically pleasing but not derogatory. Most spirits don't have enough of a sense of humor to allow some of the things that some have requested in the past. If it's something you wouldn't show your mother, don't even bother sending us the pic! We have had people send us pics of fake dog poop, sex toys, a bong, and more. Just use common sense! It doesn't have to be beautiful in your spirit's eyes. It only needs to be something you find to be aesthetically pleasing, and something you know would not be insulting to him.
When you submit the photo of the object you wish your spirit to be bound, please also set that item out on a table or a dresser somewhere (not in a drawer or a closet). We can usually knock bindings out pretty quickly between harder jobs such as readings when we need a break from those more tedious jobs. You might be told the binding ceremony will take place three days from now, but if we find an hour somewhere that we can get this done for you before that appointment time, we will do it if you tell us that you have the item out in the open. Most spirits will not bind to anything that is tucked away somewhere, or at least not without hesitation.
Once the binding ceremony is finished, you will know either by receiving an email from us letting you know your spirit has been remotely bound or by getting a notification directly from our website system that looks like a form letter stating that "your purchase is on the way". We did not choose this verbiage, so rest assured, in this case, the binding is complete. They use that verbiage because many of our products are shipped, and we don't want panic from people who get this automatic notification when we print postage for their item. If it read "Your item has been delivered", many customers would worry that they got a delivery notification rather than a shipping notification if they know they did not receive their order. So please excuse the verbiage for remote bindings, readings, and portals to special spirits. This notification actually means the service has been done. We try to also contact you by email to let you know, but this is not always possible when we are extremely busy getting orders out. Mya or Meta always have time to mark the order as fulfilled when they finish the binding ceremonies though.