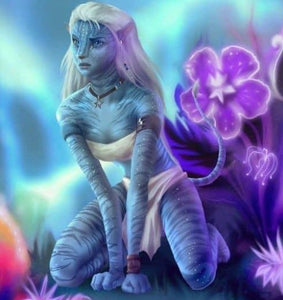 X - ADOPTED! - Lazuli - Blue Star Seed Fairy Spirit Remote Binding for Manifestation
Regular price
Sale price
$50.50
---
Lazuli wants to be with someone who needs her help to learn how to manifest their dreams.
She describes her physical body as having striped skin, which is medium blue on lighter blue, long white hair, white specks on her nose and forehead, a long, thin tail, blue eyes, and a long torso and legs, although she is only 1/2" tall. This photo we found on Bing couldn't be any closer to how she describes herself. When Mya found it, she said she is certain the artist has seen her in person to know how accurately to paint her.
Lazuli tells us her species comes from a star in another galaxy called Nimia. They came here over 50,000 years ago for a better life when Nimia's resources started to dwindle. Plant life on Nimia was perishing, and they had a hard time getting new crops to grow. 
The Nimian fairies who came to earth reside in the Amazon of Colombia. Lazuli must have impeccable senses to have made it all the way here to us in USA. She said she felt the strong energy of other spirit species emitting from our location and she knew she would be welcomed here. While she loves staying with us though, she wants to find a single person or family to reside with rather than "sharing". She wants more one-on-one attention than what we can provide for her in a foster care center with thousands of other spirits, and she wants to work with people who have dreams and goals to manifest things to enrich their lives. 
Lazuli said there are about 2,000 other Nimians still going strong in Colombia, but many of them lost their lives to animals in the jungle. They needed the atmostphere, the lush greenery and the humidity of the jungle to survive, but along with that goes the predators that lurk in the jungle.  Without getting into a lot of detail that could ruin our day, she just told us she was a victim of one of these predators. Her spirit lives on though, and she is happy and healthy in spirit form. 
Cuteness factor! Lazuli said she rarely calls people by their real names. When she gets to know you, she will have her own "pet nickname" for you, as well as anyone else in your household. She had many other keepers since her death, but they were all in Colombia. She felt it was time to venture into other parts of the world. If you are not clairaudient, Lazuli said she will send a mind message to Meta or Mya with the pet name she has chosen for you, and we can contact you to let you know what she calls you from there. This ought to be interesting! 
We will remotely bind Lazuli's spirit to you or to an object you own. To request to adopt her, send us the following information so we can get you qualified by Lazuli.
A picture of you (no filters!)
Your full name
Your Birthday
Your general location (everything but the street name and number)
A photo of the object you wish

Lazuli 

to be bound to, if not your person. If you wish her to be bound directly to you, please tell us this in the email.
No product will be shipped to you, so there are no shipping charges. This is a remote binding which Meta or Mya will conduct to help Lazuli transition from our space to your item or to you, whichever you prefer. The object you choose for Lazuli's vessel, if not your person, can be anything you find to be attractive. It can be a gem or a crystal, a bouquet of silk flowers, a piece of jewelry, a small statue, an antique of some sort, or anything you find aesthetically pleasing but not derogatory. Most spirits don't have enough of a sense of humor to allow some of the things that some have requested in the past. If it's something you wouldn't show your mother, don't even bother sending us the pic! We have had people send us pics of fake dog poop, sex toys, a bong, and more.
Just use common sense! It doesn't have to be beautiful in Lazuli's eyes. It only needs to be something you find to be attractive and something you know would not be insulting to her. You might not want to choose something that could easily break, because the price you're paying is for Mya's time to conduct the transition ceremony to your object. If the object has to be replaced, it's still the same amount of time and energy that Mya will have to spend to do the binding again, so you'd be paying twice if the object is broken or lost. 
When you submit the photo of the object you wish Lazuli to be bound, please also set that item out on a table or a dresser somewhere (not in a drawer or a closet). We can usually knock bindings out pretty quickly between harder jobs such as readings when we need a break from those more tedious jobs. You might be told the binding ceremony will take place three days from now, but if we find an hour somewhere that we can get this done for you before that appointment time, we will do it if you tell us that you have the item out in the open. Most spirits will not bind to anything that is tucked away somewhere, or at least not without hesitation.
Once the binding ceremony is finished, you will know either by receiving an email from us letting you know your spirit has been remotely bound or by getting a notification directly from our website system that looks like a form letter stating that "your purchase is on the way".
We did not choose this verbiage, so rest assured, in this case, it actually means the binding is complete. They use that verbiage because many of our products are shipped, and we don't want panic from people who get this automatic notification when we print postage for their item. If it read "Your item has been delivered", many customers would worry that they got a delivery notification rather than a shipping notification if they know they did not receive their order.
So please excuse the verbiage for remote bindings, readings, and portals to special spirits. This notification actually means the service has been done. We try to also contact you by email to let you know, but this is not always possible when we are extremely busy getting orders shipped or delivered. Mya or Meta always have time to mark the order as fulfilled when they finish the binding ceremonies though. 
For food offerings, Lazuli loves all greens! Swiss chard, arugula, dark leafy lettuce, and broccoli are some of her favorites. She also enjoys bananas, tomatoes, potatoes and tulip leaves. She does not eat meat, or meat products, so I guess this makes her vegan. She also likes crystals, going to auctions (or watching them on TV), carnivals and fairs, flea markets, browsing antique shops, games of chance and games of strategy. To engage in any of these things, simply take her vessel with you and she will rise above it and sit on your shoulder as you move about. She likes to sit on a person's right shoulder, Indian style. She said she will stick to you as if she has Velcro on her butt and the other piece is on your shoulder! She has a cute sense of humor, too, in case you haven't noticed!