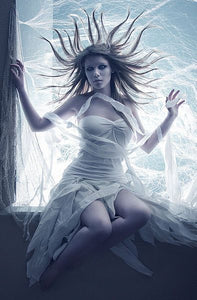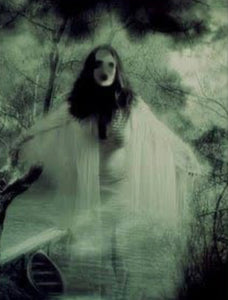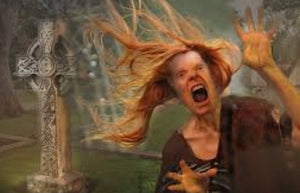 X - ADOPTED! - Jennick the Banshee - Remote Binding
Regular price
Sale price
$41.41
---
Jennick, the Banshee Spirit
Banshees, for those who don't know, are always female spirits. They roam the countryside and can be heard wailing when they predict an imminent death.

Dark banshees can and do actually cause death when they scream. But not all Banshees are hate-filled creatures; there are some that had strong ties to their families in life and continued to watch over them in death.

When they manifest themselves, or shape-shift these Banshees appear as beautiful enchanting women that sing a sorrowful, haunting song which is filled with concern and love for their families. This song can be heard a few days before the death of a family member and in most cases the song can only be heard by the person for whom it is intended.

The word banshee comes from the Irish bean sidhe (pronounced ban-shee) which translates as woman of the fairy mounds. She can shapeshift into a number of different disguises, such as a young beautiful lady, a stately matron,  or even an ugly, frightening old hag. She usually dresses in either a grey or a white hooded cloak. While not always seen, her mourning cries can be heard usually at night when someone is about to die. Those who claim to have seen her describe her as having long hair which she runs a comb through roughly, similar to tearing the hair out in anguish.
Banshees have unworldly powerful lungs, vocal cords and throat muscles, which is why she is able to set off a sonic scream that could wake up people in another country. 
Jennick will not harm anyone. She mourns the death of people she never met. This is probably the strongest example of empathy. 

Like most banshees, Jennick will cling to one person in the household. She will protect everyone, but she will be attached to you at the hip. Whatever you're into, she's into. She will take an interest in anything you do, and she will make everything turn out twice as well as you might have expected.
Your only offering to Jennick could be to allow her to participate in everything you do from work to play, including witchcraft. There are no right or wrong things to allow her to do with you. If you want to sing karaoke, she's happy to sing along. If you are working on a project, whether it interests Jennick or not, she will get involved. There are no foods she requests and she doesn't have any specific favorite things to do.  Her only favorite thing to do is whatever her keeper is doing.
Normal protocol should be followed for applying to adopt Jennick, as outlined in our Terms of Service.
Important information about having any spirit bound to you remotely

:
No product will be shipped to you, so there are no shipping charges. This is a remote binding which Meta or Mya will conduct to help your spirit transition from our space to your item or to you, whichever you prefer.
The object you choose for your spirit's vessel, if not your person, can be anything you find to be pleasing to the eye. Something that sparks you when you see it. It can be a gem or a crystal, a skull, a baseball bat or anything you'd consider to be a weapon, a piece of jewelry, a small statue, an antique of some sort, or anything you find aesthetically pleasing but not derogatory. Most spirits don't have enough of a sense of humor to allow some of the things that some have requested in the past. If it's something you wouldn't show your mother, don't even bother sending us the pic! We have had people send us pics of fake dog poop, sex toys, a bong, and more. Just use common sense! It doesn't have to be beautiful in your spirit's eyes. It only needs to be something you find to be aesthetically pleasing, and something you know would not be insulting to him.
When you submit the photo of the object you wish your spirit to be bound, please also set that item out on a table or a dresser somewhere (not in a drawer or a closet). We can usually knock bindings out pretty quickly between harder jobs such as readings when we need a break from those more tedious jobs. You might be told the binding ceremony will take place three days from now, but if we find an hour somewhere that we can get this done for you before that appointment time, we will do it if you tell us that you have the item out in the open. Most spirits will not bind to anything that is tucked away somewhere, or at least not without hesitation.
Once the binding ceremony is finished, you will know either by receiving an email from us letting you know your spirit has been remotely bound or by getting a notification directly from our website system that looks like a form letter stating that "your purchase is on the way". We did not choose this verbiage, so rest assured, in this case, the binding is complete. They use that verbiage because many of our products are shipped, and we don't want panic from people who get this automatic notification when we print postage for their item. If it read "Your item has been delivered", many customers would worry that they got a delivery notification rather than a shipping notification if they know they did not receive their order. So please excuse the verbiage for remote bindings, readings, and portals to special spirits. This notification actually means the service has been done. We try to also contact you by email to let you know, but this is not always possible when we are extremely busy getting orders out. Mya or Meta always have time to mark the order as fulfilled when they finish the binding ceremonies though.