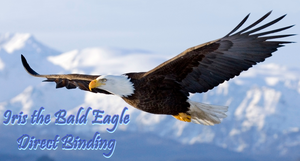 X - ADOPTED! - Iris the Bald Eagle Spirit - Remote Binding
Regular price
Sale price
$50.50
---
Iris is an amazing bald eagle spirit!
Iris came to us some time ago looking for a keeper to help her while she helps you in return. The help she needs is simple. She needs love. Her mate reincarnated and she has another 42 years to go before her reincarnation will occur. By that time, Jimmy, her soul mate, will have reincarnated twice. Jimmy was killed by another male bald eagle seven years before Iris passed away. She was sad before she passed, but hopeful when she ascended because she would then reunite with Jimmy. She was with him just a short time before he received his calling to return to the earth to help procreate a dying breed. 
Iris, in return for your love and attention, will
Help you heel your wounds, physical or emotional.
Help you reach your fullest potential spiritually.
Help you achieve a more balanced life.
See to it that you receive the recognition you deserve for your efforts in everything you do. (Expect a raise or a promotion at work, earn the respect and trust of the ones you can't seem to achieve that with, be noticed by that special someone, etc.)
Help you stay focused on tasks, doing your very best at everything you attempt.
Help you to get on the right path and transition you through change, if needed.
Help you feel well, adequate, and proud of the person you are becoming as you change. You'll hold your head high with the pride that will come automatically from the efforts you took with Iris's guidance.
Return the love back to you with warmth and affection
Help you see the world through her eyes
Iris likes all meats, including fowl and fish, of course, as offerings. Her favorite meal is cod or tuna with a side of toast with jam. Odd combination, but I was having toast with strawberry preserves one day when Tracy was having a cod sandwich on break. She stopped by to see both of us and kept going back and forth between us for at least ten minutes as we ate. Other people were eating, but she only came to us! She also likes baked potatoes, apples and applesauce, sardines and anchovies. If you have mice in or near your home, or any kind of rodent, you can expect that problem to go away. She is also mesmerized when we play nature videos.
Normal protocol should be followed for applying to adopt Iris, as outlined in our Terms of Service.                                                     
Important information about having any spirit bound to you remotely

:
No product will be shipped to you, so there are no shipping charges. This is a remote binding which Meta or Mya will conduct to help your spirit transition from our space to your item or to you, whichever you prefer.
The object you choose for your spirit's vessel, if not your person, can be anything you find to be pleasing to the eye. Something that sparks you when you see it. It can be a gem or a crystal, a skull, a baseball bat or anything you'd consider to be a weapon, a piece of jewelry, a small statue, an antique of some sort, or anything you find aesthetically pleasing but not derogatory. Most spirits don't have enough of a sense of humor to allow some of the things that some have requested in the past. If it's something you wouldn't show your mother, don't even bother sending us the pic! We have had people send us pics of fake dog poop, sex toys, a bong, and more. Just use common sense! It doesn't have to be beautiful in your spirit's eyes. It only needs to be something you find to be aesthetically pleasing, and something you know would not be insulting to him.
When you submit the photo of the object you wish your spirit to be bound, please also set that item out on a table or a dresser somewhere (not in a drawer or a closet). We can usually knock bindings out pretty quickly between harder jobs such as readings when we need a break from those more tedious jobs. You might be told the binding ceremony will take place three days from now, but if we find an hour somewhere that we can get this done for you before that appointment time, we will do it if you tell us that you have the item out in the open. Most spirits will not bind to anything that is tucked away somewhere, or at least not without hesitation.
Once the binding ceremony is finished, you will know either by receiving an email from us letting you know your spirit has been remotely bound or by getting a notification directly from our website system that looks like a form letter stating that "your purchase is on the way". We did not choose this verbiage, so rest assured, in this case, the binding is complete. They use that verbiage because many of our products are shipped, and we don't want panic from people who get this automatic notification when we print postage for their item. If it read "Your item has been delivered", many customers would worry that they got a delivery notification rather than a shipping notification if they know they did not receive their order. So please excuse the verbiage for remote bindings, readings, and portals to special spirits. This notification actually means the service has been done. We try to also contact you by email to let you know, but this is not always possible when we are extremely busy getting orders out. Mya or Meta always have time to mark the order as fulfilled when they finish the binding ceremonies though.