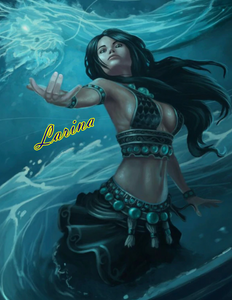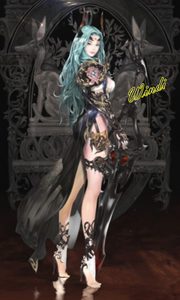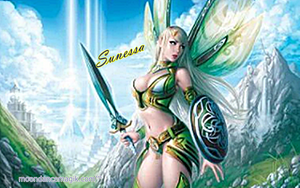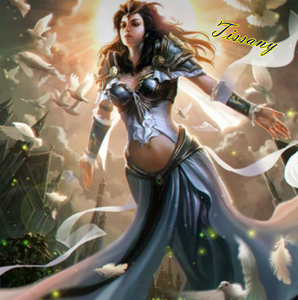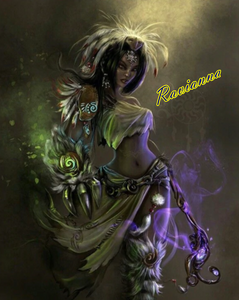 Female Sylph Spirit- Air Element for Life Changes and Fixes
Regular price
Sale price
$49.49
---
The details of each particular sylph listed in this post are outlined at the bottom of the listing. First, a lesson on sylphs, for those who are not familiar with them.
A sylph is an elemental being that inhabits the air and is mortal but soulless. A medieval physician named Paracelsus discovered them, as well as the beings for fire (salamanders), water (Undines or Mer-people) and earth (gnomes). 

Sylphs act out the will and spirit of the air while the other elementals match the forms and "moods" of their own elements. All four taken together reflect the whole picture of Mother Nature's attitude and actions.

Man is the fifth element, separate from, but related to the other four natural elements.

Sylph Physical Characteristics:
Sylphs are traditionally female in appearance
Sylphs are usually beautiful and graceful
They may take a humanoid form, appearing basically as people
They may be made of air, cloud, or light
They may or may not have wings
They vary in size from insect to human-sized to even larger
Sylphs have distinct emotional characteristics as well, to match the air they personify:
Sylphs are clear and direct
Sylphs can be aloof or flighty
They can be prone to mood changes and capriciousness
In some portrayals, they are vain and prideful
Why obtain a portal to a sylph?
Sylphs have power over the skies and air. They've been delineated to have control over the wind and the clouds, and even have the ability to purify the air and control the weather itself.
You've heard the term "winds of change".  If you need bold change in your life, a sylph will swirl the wind around until it brings the changes to you that you desire.
It is best to take your portal outside on a windy day to express your wishes to your sylph.
_________________________
Nothing is shipped to you for this service.  Simply choose the sylph you wish to have bound to yourself as a portal to her, or to an item you have in your possession. After checkout, send us a photo of YOURSELF (can be a selfie as long as it is not doctored in any way), your full name as you use it now, your birth month and day (or your astrological sign), and pics of the item you wish to use as a portal if we will not be binding the portal to your person.
We will give you an appointment time for when Meta or Mya will conduct the binding ceremony remotely. The binding ceremony takes about 45 minutes to an hour. Once the ceremony is complete, we will contact you to inform you that your portal is ready for use. Because we have spotty Internet service, it is not always possible to contact you immediately. Just know that if an hour has passed after your appointment slot, you can consider it done. If the Internet is up and running well we will also market as fulfilled in our back office and you will receive an automatic email through our system. Meta and Mya do not always remember to send an email confirming the completion of their service, but if the internet is operating properly, they always have time to mark your order as fulfilled. 
If we will be binding the portal to your person, you will need to be in a somewhat relaxed state for an hour. You can read, watch TV, even cook or wash dishes, as long as you don't get your heart racing. No running, exercising, vacuuming, etc. during this time.

Instructions for reaching your sylph to introduce yourself to her and for sending requests to her will be emailed to you once the binding service is complete. 


_________________________ 
The sylph portals available for this listing are as follows:
Larina - The Dragon Commander and Animal Communicator
Larina is a dragon trainer and commander. If you have dragon spirits or dragon portals, she will train them and urge them to help with your wishes promptly. Dragons can have a mind of their own, at times, and make decisions that are not always the decisions you'd like them to make. They tend to do what they think is best for you. Larina will see to it that they abide by your wishes and allow you to figure out if these things were best for you. 
In addition, she will keep your dragons fueled. They can easily get tired when attempting to take on large tasks if they are not properly fueled. Unless you keep things in stock like wild boar, deer, rodents, kangaroos, and other such things, she will come in great use by providing these things for your dragon(s). The dragons will be fine without anyone bringing them their fuel needs, as they do hunt and they are perfectly capable of finding their own, but this hunting time is time taken from their schedule that could be used towards helping you with your wishes. 
If you do not have dragon spirits or a portal to one, she is helpful with calming your pets, keeping them satisfied, and keeping them entertained. She will also ensure that you're aware of anything they need if there is a medical or an emotional concern. She will write it out for you, quite literally. There will either be a message coming to you in a dream on a note that she writes out and shows you, or she will address it in a way that you will just KNOW. You'll feel the urge to feel your dog's neck, for example, if there is a tick attached. You'll feel the urge to check your pet's stools if they are bloody, when you would not otherwise be inspecting their duty drops. If your pet is lacking enough attention from you despite the attention he or she is getting from Larina, you will feel their emotional pain.
-.-.-.-.-.-.-.-.-.-.-
Windi - Goddess Isis' Right Hand
Windi has always and always will be an elemental being who helps the Goddess Isis. You do not have to have a portal to Isis for her to do her magick for you, but if you do, that will make this sylph even more valuable to you. Whether you do or you don't, Windi gets special favors from Isis due to her loyalty to her. The two of them together are unstoppable, and it is extremely rare that anyone who asks Windi for help will not get their wishes fulfilled.
Windi specializes in helping people get a safe, content, and organized life together. If you feel pulled in too many directions all the time, you live in an area where you do not feel safe, you have people bothering you who make you feel threatened, you have a less than perfect day to day existence, or you just wish you enjoyed life more, Windi will get this on it's way for you. If you have children who argue with you all the time and you feel as if they could treat you better, Windi will focus on brining peace to your family. If you have a spouse or significant other who doesn't seem to want to give you the time of day any longer, or if things have just gotten stale, Windi is on it.
She doesn't feel as if anyone should not be able to smile at least 51% of their day. Her idea of having a content and happy life is having that smile on your face more like 90% of the day, but if you're currently miserable or you feel discontent most of the time, she aims to flip the scale so that the majority of your day rules on the side of happiness, organizational skills peaked, and negative people being removed from your life, or at least kept away from you most of the time. 
Windi will get to know you through your conversations, and she will get a feel for what some of the things have been that have brought laughter and happiness to your life.  She will sense the things that make you sad, and she will focus on a remedy for those things. 
-.-.-.-.-.-.-.-.-.-.-
Sunessa -  Scatters Your Breathing Air with Confidence & Attracts Positivity
If you need a confidence boost so that you can reach for the stars and know you'll grab them & secure them, choose Sunessa! Do you feel like you already know you're not going to get that job before you even walk in for the interview? Do you see someone you're attracted to and think to yourself, there's no way they will feel the same? How many times have you thought about going out alone somewhere and meeting new people just to have some good friends, but you knew you couldn't do that because you are an introvert? You have the rockin' body for some of the slinky clothes to wear to a nightclub, but you've always worn clothes that go up to your neck, cover your mid-section, and flow to your ankles because you lack self-confidence. These are the things Sunessa fixes! It is a known fact that we are our own worst critics, 95% of the time. There are some egotistical people out there who are confident in every aspect of themselves, but even most of the people you might know who seem to have it all together and know their worth have only mastered how to pretend to know it. Pretending is no fun. You need to FEEL it and KNOW it!
If it is obvious to you that you don't have a Barbie doll figure and you don't feel you should have body confidence, guess again. There are LOTS of people who look for exactly what you have! I remember a time when I just wanted to lose some weight off my butt. Now people are getting butt enhancement surgery! The reason is because there are lots of people who are attracted to big butts! There are people who are attracted to larger bodied people, as well. 
If you know you don't have the credentials to sell cars, but you really want to become a car salesperson, Sunessa will give you the confidence you need to get that job and convince the sales manager that he or she just needs to guide you a bit, but you have the personality to attract the customers. When you get the job, and you will, Sunessa will bring the words you'll need straight to your mouth to know how to close the deals.
These are just two examples of many of things that Sunessa will help you with if you just need more confidence to get what you want out of life. 
-.-.-.-.-.-.-.-.-.-.-
Tissany - The Angel Communicator
Tissany is able to channel anyone you know who has crossed over the veil. Human spirits, animal spirits, and every being in between. She will communicate with them in a way that you may not be able to, if your channeling skills are lacking. She will get messages to them and get return messages for you that she will deliver in several different ways until she knows you have received the message loud and clear. Of course, Meta and Mya can do this for you as well, but wouldn't you rather have access to getting the answers almost anytime you wish? I say "almost", because some of this is up to the spirit, of course. They are not all always available to chat, or they may be hesitant at first to trust in Tissany to deliver their messages accurately. Eventually, they almost always ALL come around. Most of the time, they are eager to please Tissany from the start, though, because she is very persuasive. I (April) have utilized a portal to Tissany to reach out to my cat Piewhacket. Meta has done this for me, but I'm trying to keep Meta's work time available for paying customers. So when Meta created a portal for us to use here, I jumped on it! 
Piewhacket has always been leery of EVERYONE aside from me. It didn't matter how much time a friend would spend with us at my home, she just didn't trust them. One of my dear friends who also passed recently used to come over to visit for a few hours at least once a week, but usually twice a week. Piewhacket never got used to her and she would hide under the couch or the bed the whole time she was visiting. When I asked Tissany to channel her and ask her how she is doing over the rainbow bridge, Tissany put a vision in my head not 30 minutes later. It was a vision of Piewhacket playing with a bottle cap. A couple seconds later, both Sonya and I heard a voice that said, "Why a bottle cap? What's so exciting about that?"  Sonya asked me who was talking about a bottle cap, and that's how I knew it was out loud. Before she said that, I thought I was the only one to hear her voice. I thought she sent a voice message to my head. Piewhacket loved to slide Coke bottle caps around on the floor when she was alive. 
-.-.-.-.-.-.-.-.-.-.-
Ravianna - The Financial Riches Sylph
Ravianna is a favorite of most of us here, just from what we have learned about her so far. She wants to help anyone who is in a financial bind get to where they can stop treading water and start swimming. She will stir up the air and blow enrichment opportunities into your direction after helping you get out of debt. (The words in italics are the words she used when she came to Meta).
For those who are in need of getting dug out from under, she will help you get on top of things firstly. Once you are able to breath again and rest assured that they're not going to take your car or your home, she will bring opportunities your way for you to be able to attract more.  She does not quite work like a money spell.  With a money spell, money will come to you with no effort aside from being aware of your surroundings and being careful not to miss any clear signs. Ravianna will create opportunities for you to become wealthy. There won't be winning lottery tickets or inheritances. There won't be a bag of ransom money found in a trashcan that a terrorist couldn't find after making the demand for it.  
Instead, there will be opportunities for you to get into something big at the right time. It could be a business opportunity to become a partner in something without having to have the capital to get started. It could be an idea that comes to your head creating the chance for you to get something patented without upfront capital. This patent could bring you riches as if it were the next Frisbee or the next Popsocket. It might be an opportunity to buy stocks that are usually unaffordable, and the stocks will go up in value 50,000% once she pushes you in that direction and you make the purchase. She works in ways that can make you feel as if you earned it, and yet you will barely be doing anything except for following her advice, which she will give you straight to your mind while you are awake.
If you do not receive her ideas for opportunities right away, she won't give up, because she is not a quitter. She will just stir the winds up stronger until it hits you!  Ravianna is a sore loser, so for this reason, she will go to bat for you until she gets her way, and her way is for you to succeed.
-.-.-.-.-.-.-.-.-.-.-
PHOTO CREDITS GO TO SOMEONE ELSE! THEY ARE NOT OUR PHOTOS, BUT WE HONESTLY DO NOT KNOW WHO THEY BELONG TO. 
Meta pulled up several screens filled with Sylph photos on her laptop and they each chose the photo that they feel best represents how they see themselves.    : )
-.-.-.-.-.-.-.-.-.-.-
p.s. We have not yet been told of any limits for portals to these beings, but to be on the safe side, we are starting with a quantity of two each. We don't want to let the portals get purchased and have to refund you, resulting in you feeling let  down if Meta has issues when she attempts to create your sacred portals. As we find out more, we will either increase the available quantities or possibly remove extra quantities. (If any of them only want one portal issued). Bear with us as there are many different species channeling with Meta and wanting to either be adopted and directly bound to items remotely, or for portals to be created, and they all seem to have their own ideas of how we should offer their services. Thank you!
_________________________