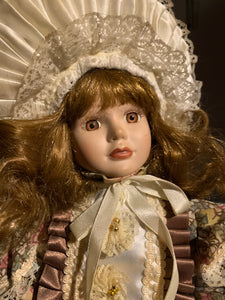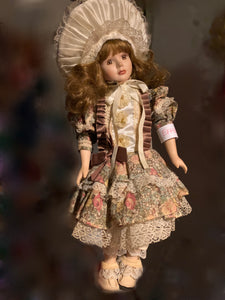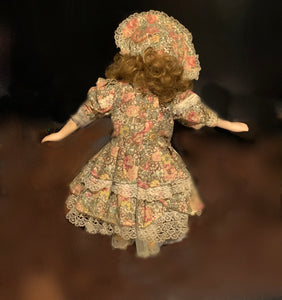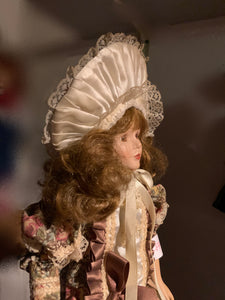 X- Adopted! - Reserved for Jenny - Effie will Change Your Life! Spirited Doll or Remote Binding of Spirit
Regular price
Sale price
$198.98
---
Effie - Reserved for Jenny! Do not adopt her unless you are Jenny
Effie is an active spirit who likes to put her arm around you or hold your hand. Sometimes she will just brush your arm lightly or touch your head to get your attentions. Most people know this, but when I say all this, I mean her actual spirit will do this…not the doll she is attached to.
Spirits often leave their vessels to walk with you or even travel with you when you leave your home. They re-attach themselves to their vessel when you are sitting in front of their vessel speaking to them. Most spirits choose dolls as vessels to make it easier for you to communicate to them since you can relate to them more as a human than you might if they attached to a spoon or a piece of jewelry, for example. While Effie did choose this vessel because she feels it represents her in an uncanny way, she does not mind being bound to something else that would work better for you. You can see the photos of the doll she chose to know how to imagine her if you choose for alternate binding.
She will touch you most often when she wants you to pay particular attention to your surroundings, including happenings, sounds, and even feelings. She will prepare you a few minutes in advance of an event or something she feels you would not want to miss, when she can, by touching you in some way that you know it is her and not just the wind blowing or for you to have some other reason to discount it being her. I, April, know this to be true firsthand. I am well in tune now with my spirits at home that are with me all the time (they usually come with me to work, too), but I am not very in tune with the spirits who come and go from our foster care center at work, with the exception of some of the "lifers", as we have started to call them. The ones who have been here for months or even years due to the lack of interest. 😥 Effie touched me several times to where I was certain I was being touched by someone with no other people in my office at the time. I know it was her based on the knowledge that she prefers to touch people by putting her arm around them, touching their head, or brushing her "hand" down their arm lightly. She has done all of those things to me. She also touched the back of my neck one time in a painful way, but prior to that happening, I had a very sore neck with pain that radiated down my right arm. After she "dinged" me, which is what it felt like only not by a person but by a strong giant, I never had the pain return. 
Effie told Meta that she wants to go to a keeper who needs help with any or all of the following:
Lack of quality friends they can trust
Needs to learn how to feel confident
Wishes to become more poised and graceful
Wants to learn a talent more quickly than if not with her help
Wishes to meet a suitable lover or someone who will become a permanent part of their life
Wishes to become more popular with a certain grouping of people, such as people from another culture, people of a particular gender, other people they can relate to because of specific interests, people who speak a particular language, people who enjoy the same hobbies, etc.
Estranged from or ostracized by family
Wants to attract their former lover or significant other to help them see their worth in a different light
Feels different and wants to find more people who think or feel the way they do
Feels helpless, anxious, or depressed
Wants to feel more comfortable in social situations
Wants to feel better about their sexuality
Needs a boost to keep them going energetically all day
Needs help with knowing the right things to say to people in awkward situations
Effie was a social butterfly in her most recent life. She kept people entertained with her intellectual conversation, while also making them feel comfortable. People would ask her all the time how she was able to stand up in front of so many people in an audience to give speeches and demonstrations, which she often had to do for her job. She would take those people under her wing and teach them her tricks. She helps a lot more people now with this and in a lot more effective way than she ever could while in the flesh. She had three keepers so far, and she has helped them all with a variety of the items on the list above.
Effie was born in England on June 19th, 1841 and died in New York City in 1868 (exact date is unknown). She was just 27 years old when she passed. She was born with a heart murmur, and hear heart weakened more and more as she aged. When she was 25, she started to have a lot of fainting spells, and she went downhill from there. Her husband Dougherty was by her side when she passed away. They had been married only four years, and they had not had any children together. She married Doc, which is what she called him, right out of college, where they met and graduated together. Soon after they were married, she opened her own practice as a psychologist for ages teen to infinity. She did not see children as patients, and she prefers not to, so if you are considering adopting Effie to help a child under the age of 12, Effie is not your answer. Please contact us for other options.
Effie is not married to the vessel she chose for herself. She is open to be bound to any vessel you have that you prefer, or we can help her transition to an item of ours, for the price of the item. We have smaller empty doll vessels as well as jewelry and antiques that would make perfect options if you don't have anything you like at home for such purpose, and if you do not care for Effie's vessel. Contact us for pricing of items we have that we could use. We prefer it if you give us an idea of what you'd be looking for. Popular options are smaller doll vessels that are currently not occupied, jewelry, crystals, statues, wooden boxes or small trinket dishes, etc.
Effie's vessel is in pristine condition, and stands about 16" tall (guestimating, because she is not here with me as I write this up). Contact me for exact figures.
Whether you get something from us or use something of your own, you should choose something that is sturdy and not easily breakable, or the binding ritual would have to be purchased for a second binding. Many people do not like to adopt some of our larger spirit dolls because of the hefty shipping fees the carriers charge for shipping internationally or even to the west coast of the USA. Others are space deficient and don't have room for larger doll vessels.
If you opt for a remote direct binding to an object you own rather than having us ship her with this doll vessel, she is open to that. Just send us an email with picture(s) to ask us if Effie likes the object(s) you have.
Also please follow the other regular guidelines for the adoption process so Effie can read you and approve of the adoption, which can be found in our Terms of Service.
The adoption fee remains the same whether we do a remote binding or ship her vessel, but you would not pay shipping fees, of course. If you would like to see options we can offer here of items to bind her to and ship to you, include your shipping address when you inquire so we can give you a complete quote once you choose the item, including shipping charges. We would then create a special order for you in our shop and we would delete this listing once the order is placed.
For offerings, Effie likes peaches and nectarines, plums, baked or broiled chicken, baked or broiled fish, pentagons, matches and lighters, and kaleidoscopes. She also likes to listen to binaural beats on YouTube or singing bowls for meditation purposes. Her favorite color is aqua.
As always, thank you for visiting our site!
April Bortner
Office Manager
Moondance Magick™