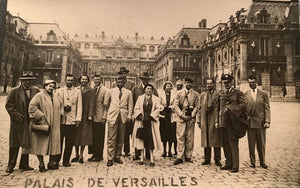 X - Adopted! - Dual Spirited Photograph Haunted by Two Men - Healing Spirits
Regular price
Sale price
$65.65
---
Frank and Madolyn are brother and sister. Madolyn is married to Ben. Frank was as perverted as they come! He fantasized about his sister all the time in an unhealthy way. The husband sensed this, but the sister just knew her brother was creepy but she told her husband all the time there was no way her brother thought of her that way.
At the time this photo was taken, nothing more had happened aside from Frank having fantasies of touching his sister in an inappropriate way, and the husband knowing it (in his gut). Shortly after the photo was taken, the brother DID molest his sister. He raped her. Bed was livid. This was before DNA testing, and he was sure Frank would get away with it, so he killed him.
Ben knew he'd face life in prison for murder if he was found guilty, but his rage got the best of him, and he could not control himself. He had always been overly protective of Madolyn, and jealous of any man who flirted with her, including her brother Frank.
At first, Ben was not a suspect in the murder, as Frank had owed a lot of money to some people, and that is who the police looked at closely. When they came around to ask Ben questions, it became his worst nightmare. He knew the police were on to him, and that he'd be found guilty if he was arrested. He couldn't handle the thought of life in prison, so he killed himself.
Ben and Frank BOTH haunt this photo. They are in a seemingly never-ending battle as they are living their afterlife in a hell of their own. They may come and go as they please, of course, but they both keep coming back to this photo as if they can dual it out within the picture. They both seem to keep fighting for Madolyn's love, even from beyond the grave. Frank says that he will follow Madolyn into the next life when he will be her husband rather than her brother. Ben says "over my dead body". 
Frank does realize now that he had a mental illness, but he's not wrong when he says he will be Madolyn's husband in the next life, as I have seen it. (This is not uncommon, for those who don't know). When we belong to a soul group, we are part of our soul family's lives in every single lifetime, but not always with the same type of relationship. Someone who is your daughter can be your father in the next life. Someone who is your worst enemy can be your spouse in the next life. We play different roles to get different experiences and to grow. This does not mean that incest is ok, however! In the flesh, it is MUCH different, as most of us realize. This is what Frank now realizes, and he hates that he behaved this way in his previous life. He wants to help people who have any type of mental illness or challenges, because he feels he has become the authority on healing those who face difficulties with their psyche. This doesn't mean just people with perversions and people who feel they are psychopathic. Anyone who suffers from depression, anxiety, has an eating disorder, OCD, or even PTSD has emotional and or mental disturbance. Frank wants to help the keeper of this photo to overcome any emotional or mental issues they may have.
Ben realizes his rage got the best of him, and he should have allowed the law to handle things. His jealousy also played a big role in the actions he chose to take when he killed Frank. He could not touch his wife without seeing Frank all over her in his mind. He never knew that Madolyn had become pregnant as a result of Frank raping her before he died, but he knows now that Frank and Madolyn have a living daughter. Ben wishes to help people overcome and be able to control envy, jealousy and rage. If this does not describe YOU, it may describe someone you know, and he is happy to help that person with these issues, even if they don't realize he is working on them. Perhaps someone you are dating or someone you care about seems to always be getting in trouble due to their rage or jealousy, and you fear for their well-being.
Frank and Madolyn's daughter, Jane, is the one who brought us this photo. She had an ill feeling for years every time she walked into the storage closet where she kept all of her photos.  She cleaned the closet well in case there was something toxic lingering in the floor or the walls of the closet, but it still happened every time she opened the door. A friend of hers asked her if she had thought to go through her photo collection, as it is not uncommon for a spirit to attach themselves to a photograph of themselves. She got the photos out, and she immediately knew there was something about this photograph in particular when she became violently ill when she handled it.  Her friend felt nothing when she held the photo, nor did her husband or her son. Jane didn't understand WHAT could have been making her feel ill, or why it only affected her, as all she saw in the photo was her late mother, her late father (whom she thought was Ben), and her late Uncle Frank. She had never heard the story, as her mother moved far away from where she lived when the murder/suicide went down, and she wanted to protect Jane from knowing the truth.  Jane had only ever been told that they both died young from illnesses. 
She took the photograph to another Medium to see if the Medium could tell her anything about anyone in the photo, and she explained that she was getting some very bad vibes from it, but she did not tell her who she knew in the photo. She told the Medium very little. The Medium she went to told her that there were two men in the photo who were haunting it, and she pointed them out. She was able to add that they were fighting over the same woman, and a "love child" was born.
Jane could not accept this, so she came to us, and she told us the same limited information. She said that the photo had bad vibes and she wondered if we could tell her why. She sat down with Mya first, and then with Meta. She was alone with each of them one by one. Madolyn had reached out to Mya when Mya was with Jane and the photo, and told her whole story to her. When Meta met with Jane, Madolyn was present, but Meta saw most of what happened in a vision, and Madolyn whispered to her that that's exactly what happened.
Mya told Jane the cold hard facts in detail, as you have just read. Jane now knew that it was true, as three different Mediums told her similar stories. The first Medium didn't have all the details. Between Mya and Meta, more details were revealed. 
Jane wasn't sure what to do with the photo at first, so she took it home with her while trying to make sense of everything. She finally decided to sell it to us, as she had other photos of her mother, and that's all she really wanted at this point. We don't know if she has other photos of her father, and we didn't ask.
This photograph is not framed, but the dimensions are approximately 3" x 5".  We send all domestic packages by UPS and international packages by USPS Priority Mail International for the best safety and speed without breaking the bank. We charge our actual cost to ship items to you.
Please refer to our Terms of Service for instructions on how to adopt Ben and Frank before making a transaction for this photo.