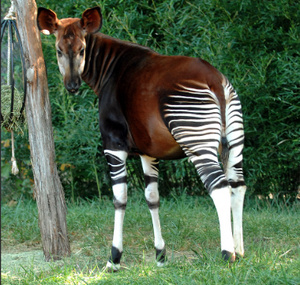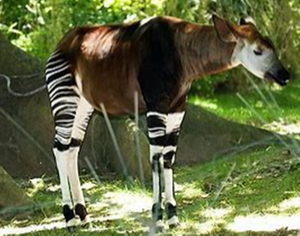 Aurora the Okapi Animal Spirit Remote Bridging
Regular price
Sale price
$55.55
---
Aurora the Okapi Spirit 
Aurora is a rare find! She came to Mya upon conjure reasonably quick. Mya had her with her in less than an hour, and while that might not be quick for most spirits, the okapi is a rare breed. There were never a lot of them on earth, so there is not an overabundance of them in spirit. 
It is hard for us to get exact birth dates or hatch dates of animal spirits, most of the time. It is equally hard for us to get their date of death, since animals do not live by our timeline rules. We only know that she has been gone from her earthly body for a little over 20 years. She will reincarnate in another 80 years, but she does not know if she will reincarnate as another okapi, as they are already an endangered species today.
Having an okapi animal spirit in your home will afford you the luxury of being able to deal with catastrophes, tragedies, and unforeseen circumstances in a calm and focused manner. In many cases, the okapi can also predict things to come and warn you of them before they happen, giving you an edge on the dilemma.
The okapi is a symbol for the importance of all life, and of the unpredictability of the world. You will find yourself experiencing a greater appreciation for all walks of life from slithering snake to fluffy kittens, and of every type of human in the world when you adopt an okapi spirit. There is no diversity in the okapi's eyes. We are all God's creatures, and the color of our skin, our spirituality, our gender, and our political affiliations make no difference in the grand scheme of things. Whether we walk on two feet or four or have no feet at all also makes no difference. Aurora tells us that God put breath into the lung, gills, or fibers of all of us who are living and breathing, even the plants and trees, the waters and the sands, the grasses and the dirt. I have learned a lot from okapi in the short time I have known her, and I don't even speak animal spirit! (April talking here).
Mya is always thrilled when she can conjure an okapi because they are so rare and so full of wisdom. They can make anyone feel happier even on their darkest days. You might think something that just happened in your life is a tragedy and you don't know how you'll move on from it or tackle the issue, and Aurora will make you quickly realize that there's a way, even if you are not clairaudient or clairvoyant. Mya has only ever conjured 6 okapis in her lifetime, and one came to her without conjure. 
I don't know that Aurora will be available long, as Matt (an employee here) has been taking it under serious consideration to adopt her himself. We, as employees, are not allowed to adopt spirits before giving our clients an opportunity to do so first, however. Mya says we will keep her listed for a week before giving Matt the option to adopt her. If he decides against it, we will leave her listing up longer.
Aurora seems to like just about everything she sees the other spirits getting for their offerings! So far, she lit up when we gave her cheese pizza, grape juice, grapes, peaches, apples, cereal and pudding. She also loves to snuggle! If you can't see her, just close your eyes and sit back in your seat or lie on your couch and ask her to give you a warm hug. Close your eyes and wait. I did this, and I felt her. STRONGLY! I also  felt her breath on my face briefly, and I think I felt her tickle my cheek with her eyelashes!
Normal protocol should be followed for applying to adopt Iris, as outlined in our Terms of Service.                                                     
Important information about having any spirit bound to you remotely

:
No product will be shipped to you, so there are no shipping charges. This is a remote binding which Meta or Mya will conduct to help your spirit transition from our space to your item or to you, whichever you prefer.
The object you choose for your spirit's vessel, if not your person, can be anything you find to be pleasing to the eye. Something that sparks you when you see it. It can be a gem or a crystal, a skull, a baseball bat or anything you'd consider to be a weapon, a piece of jewelry, a small statue, an antique of some sort, or anything you find aesthetically pleasing but not derogatory. Most spirits don't have enough of a sense of humor to allow some of the things that some have requested in the past. If it's something you wouldn't show your mother, don't even bother sending us the pic! We have had people send us pics of fake dog poop, sex toys, a bong, and more. Just use common sense! It doesn't have to be beautiful in your spirit's eyes. It only needs to be something you find to be aesthetically pleasing, and something you know would not be insulting to him.
When you submit the photo of the object you wish your spirit to be bound, please also set that item out on a table or a dresser somewhere (not in a drawer or a closet). We can usually knock bindings out pretty quickly between harder jobs such as readings when we need a break from those more tedious jobs. You might be told the binding ceremony will take place three days from now, but if we find an hour somewhere that we can get this done for you before that appointment time, we will do it if you tell us that you have the item out in the open. Most spirits will not bind to anything that is tucked away somewhere, or at least not without hesitation.
Once the binding ceremony is finished, you will know either by receiving an email from us letting you know your spirit has been remotely bound or by getting a notification directly from our website system that looks like a form letter stating that "your purchase is on the way". We did not choose this verbiage, so rest assured, in this case, the binding is complete. They use that verbiage because many of our products are shipped, and we don't want panic from people who get this automatic notification when we print postage for their item. If it read "Your item has been delivered", many customers would worry that they got a delivery notification rather than a shipping notification if they know they did not receive their order. So please excuse the verbiage for remote bindings, readings, and portals to special spirits. This notification actually means the service has been done. We try to also contact you by email to let you know, but this is not always possible when we are extremely busy getting orders out. Mya or Meta always have time to mark the order as fulfilled when they finish the binding ceremonies though.